A Distinct Masterpiece for an Unforgettable Wedding
Your Wedding in Exclusivity at Hotel Marqués de Riscal

A beautiful setting amidst rolling hills and vineyards. A bespoke ceremony under a masterpiece. Versatile spaces to host up to 400 guests. A culinary array of more than 100 possibilities to create your own special menu.
To ensure your nuptials are a unique reflection of your style and personality allow the team to help orchestrate details of the event, from bespoke decorations and flowers, through lighting options to take you from cocktails to late-night dancing, to a host of personalized details.
Only one wedding is celebrated at the hotel each day so each couple is ensured total exclusivity.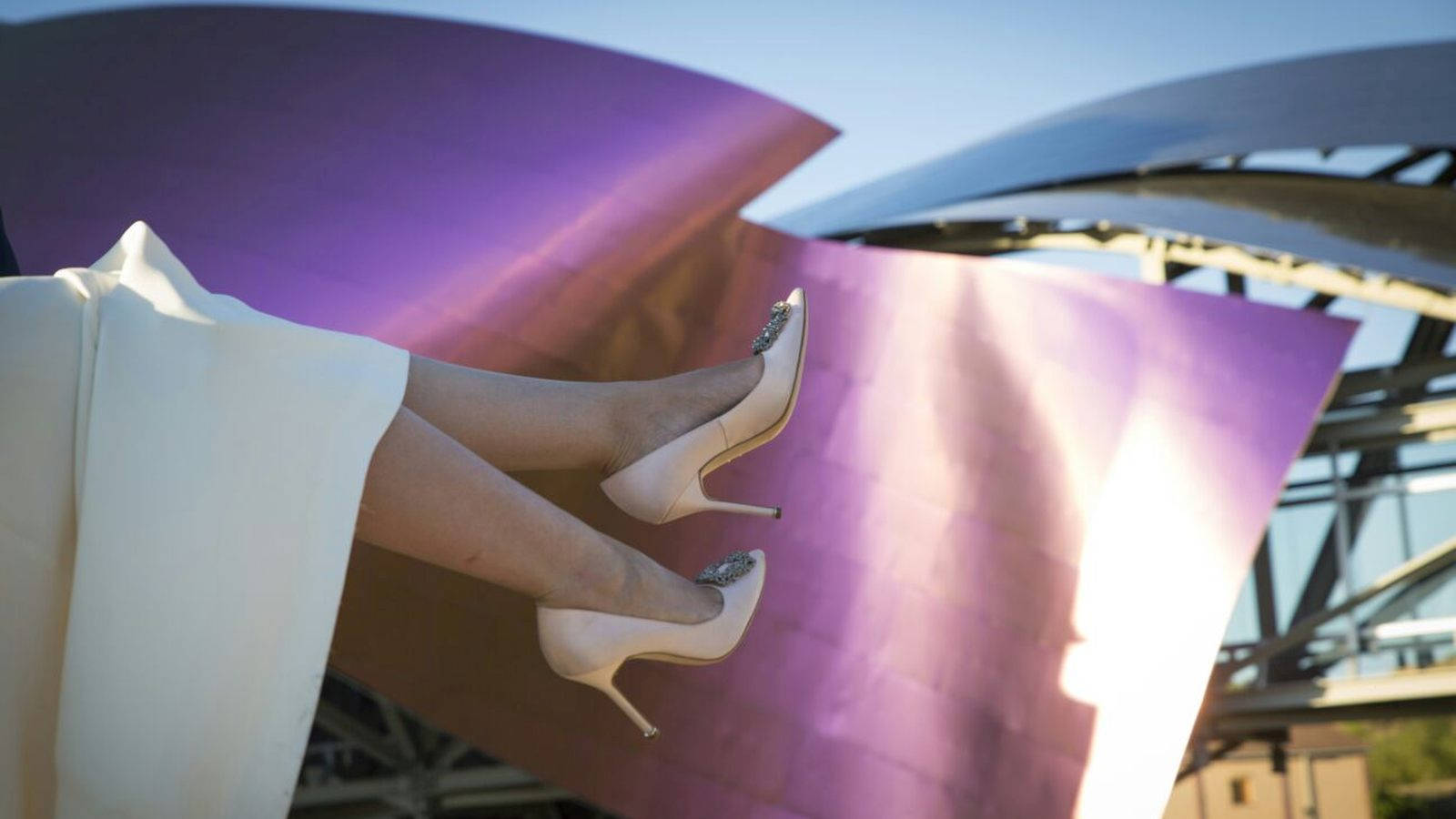 Meet our Wedding Professional
We would like to thank you for giving us the opportunity to be part of your wedding. We are fully aware of the responsibility that this involves and we will ensure that you and your guests will guard unforgettable memories of this very special day.
The entire team, would like to go above and beyond to make your wedding simply romantically unforgettable.
CRISTINA PRADO
Wedding Coordinator
Telephone: (+34) 945 180 863
Send us an E-mail >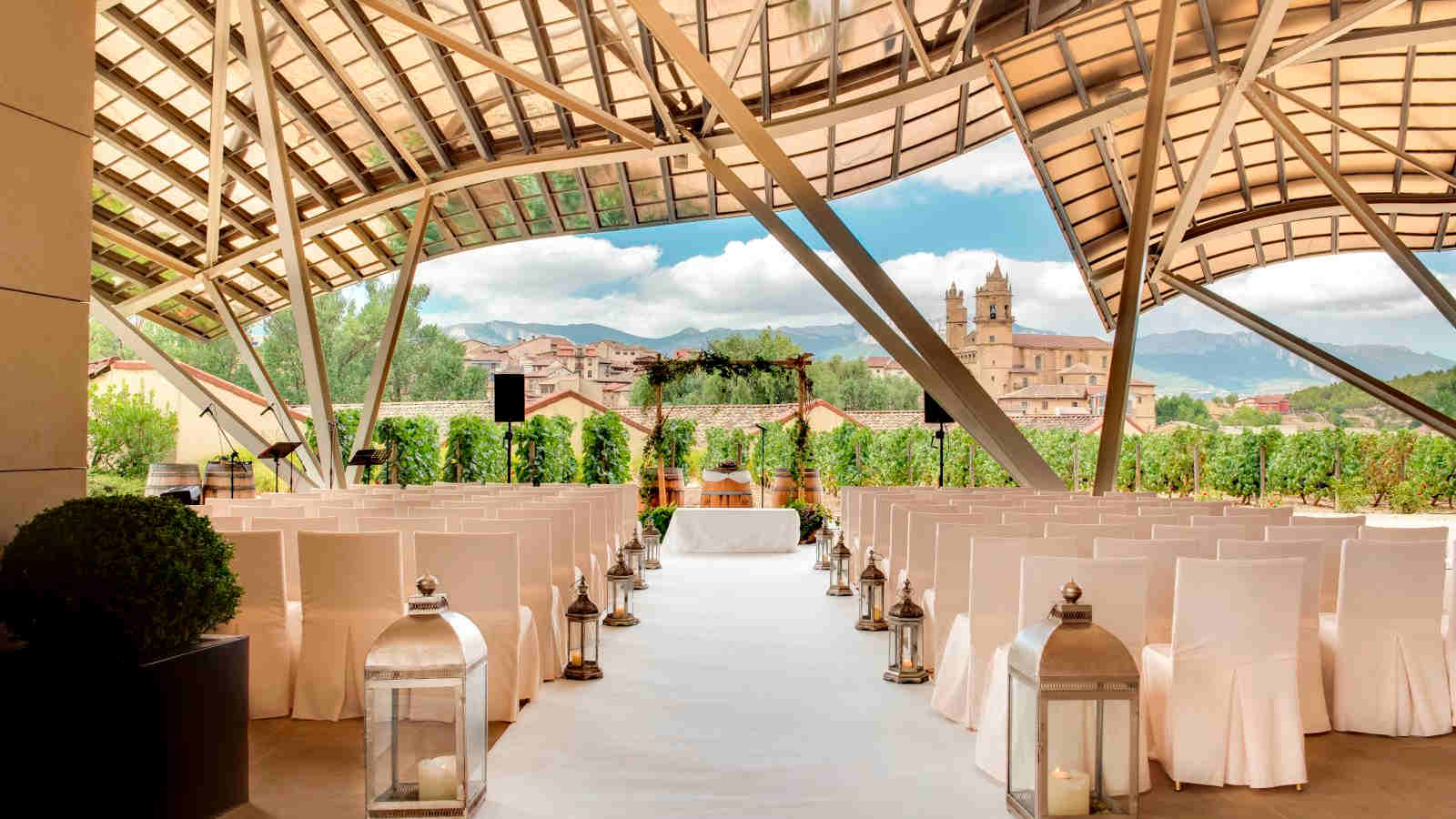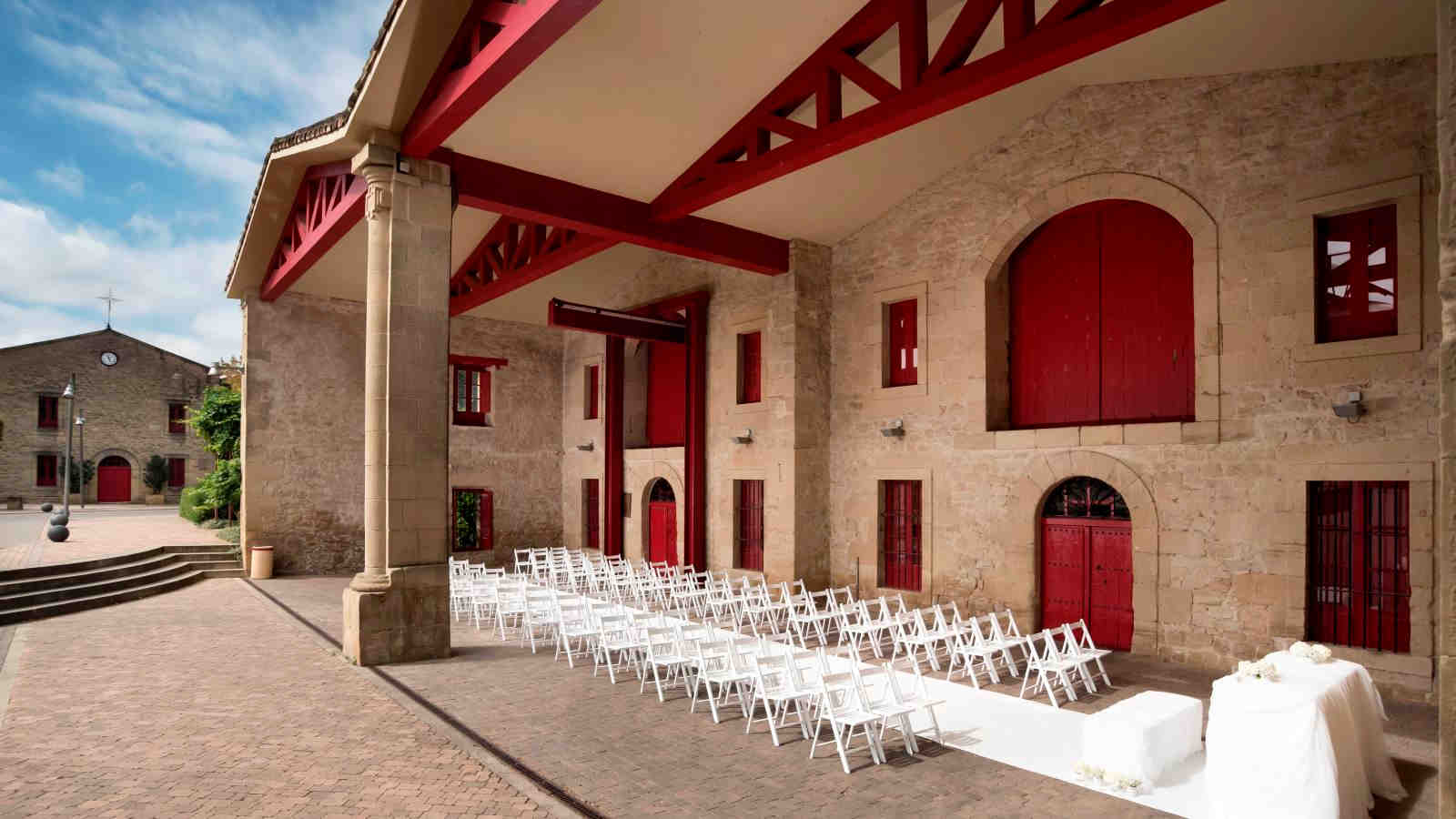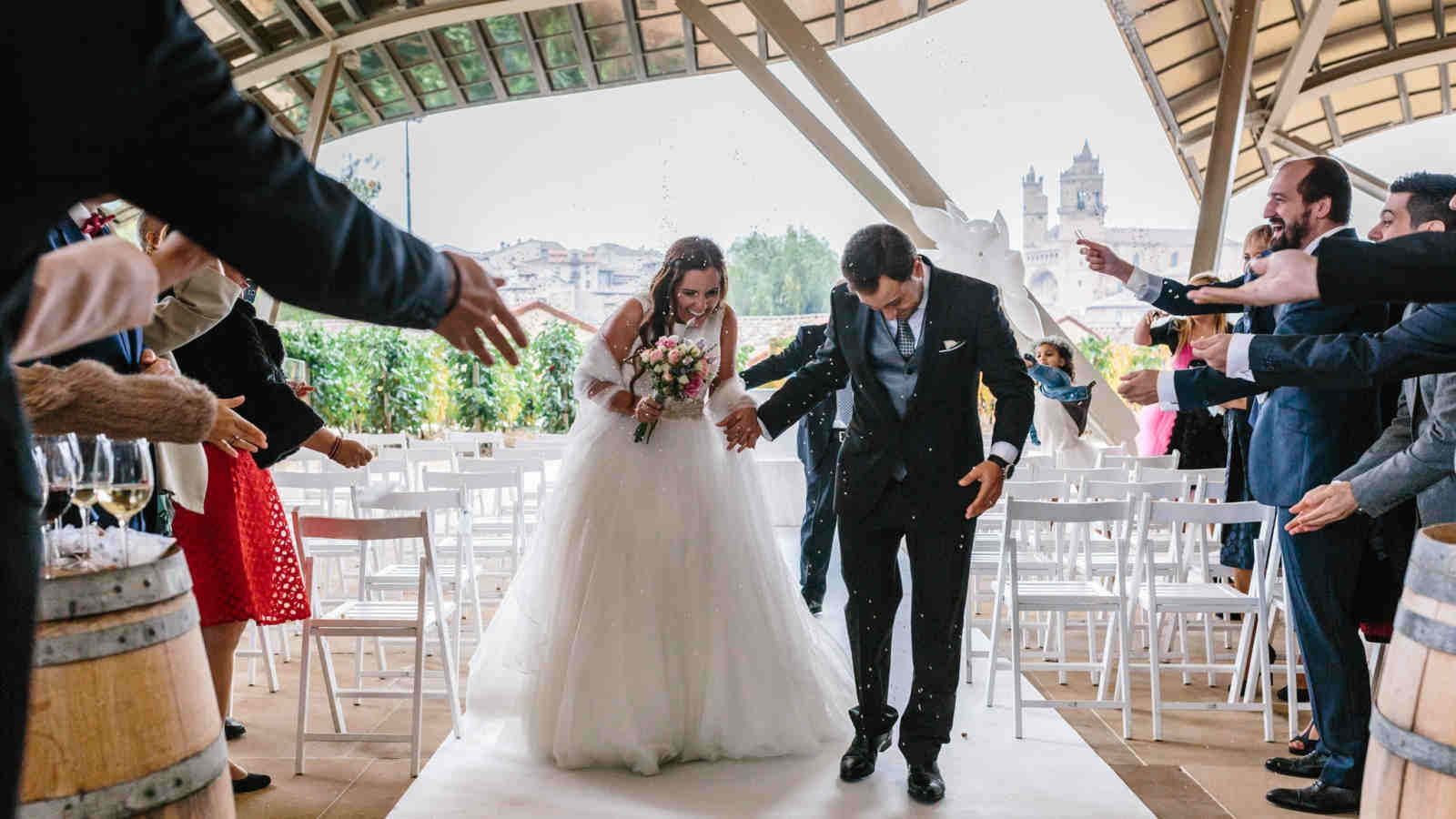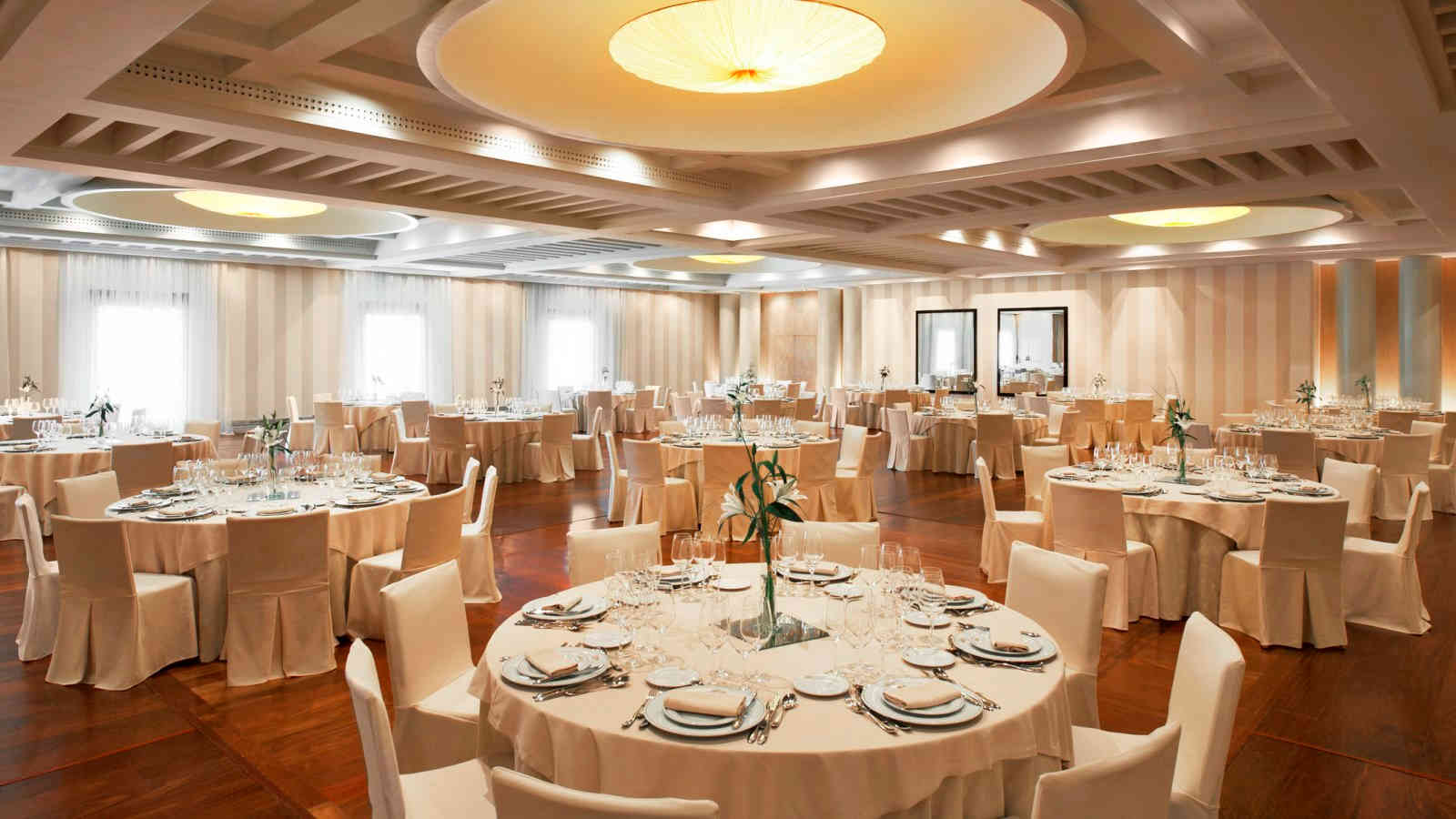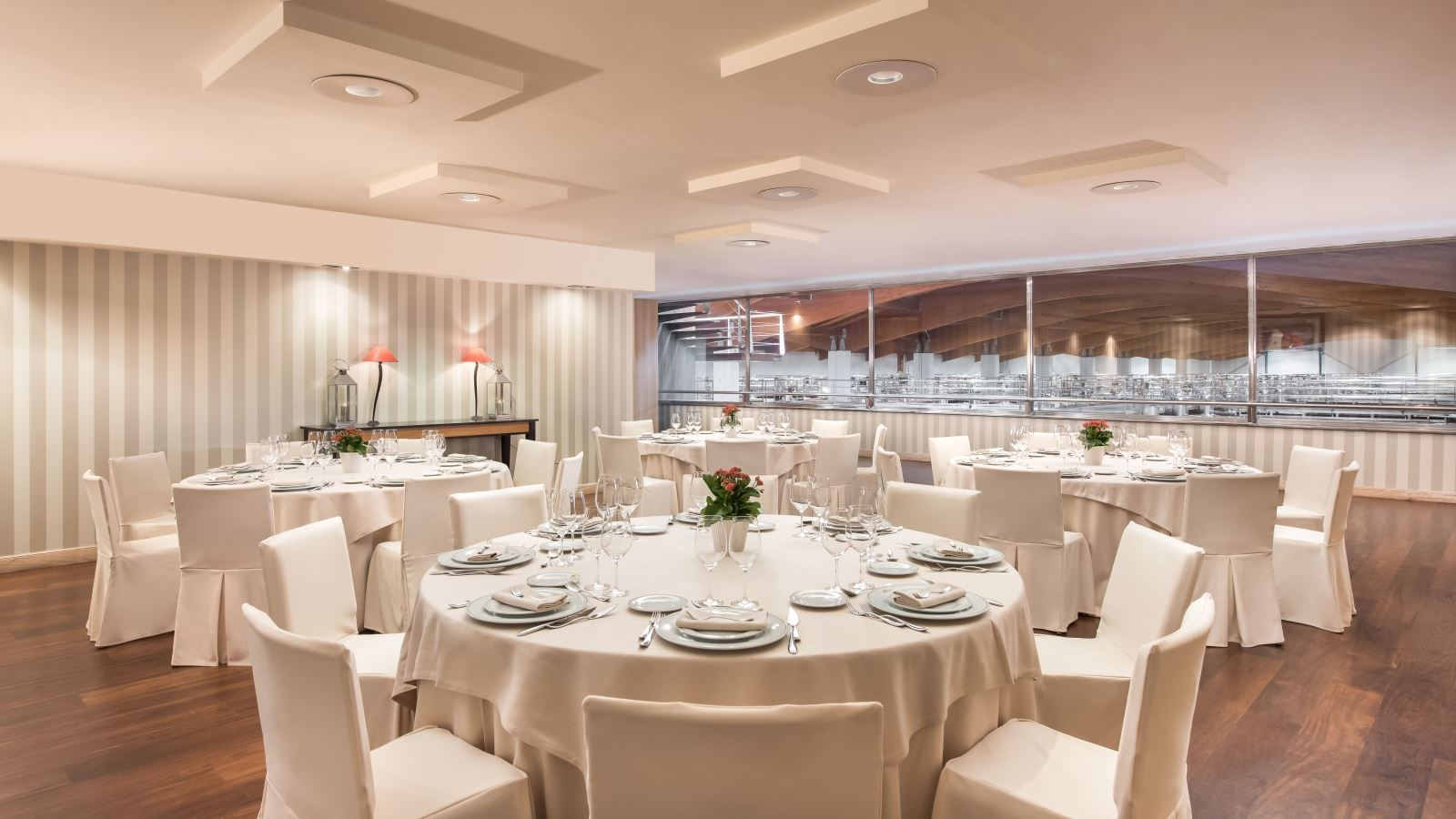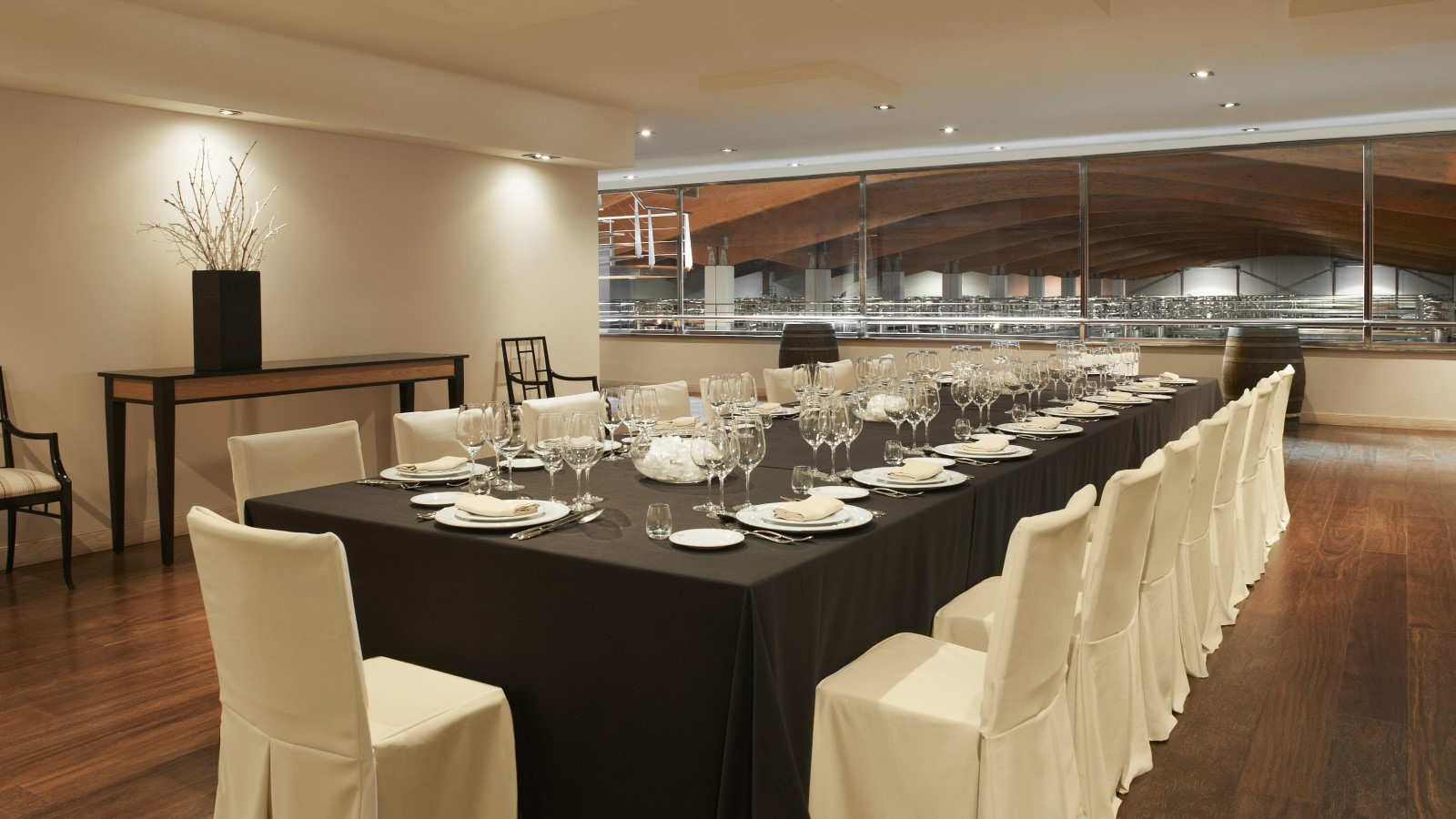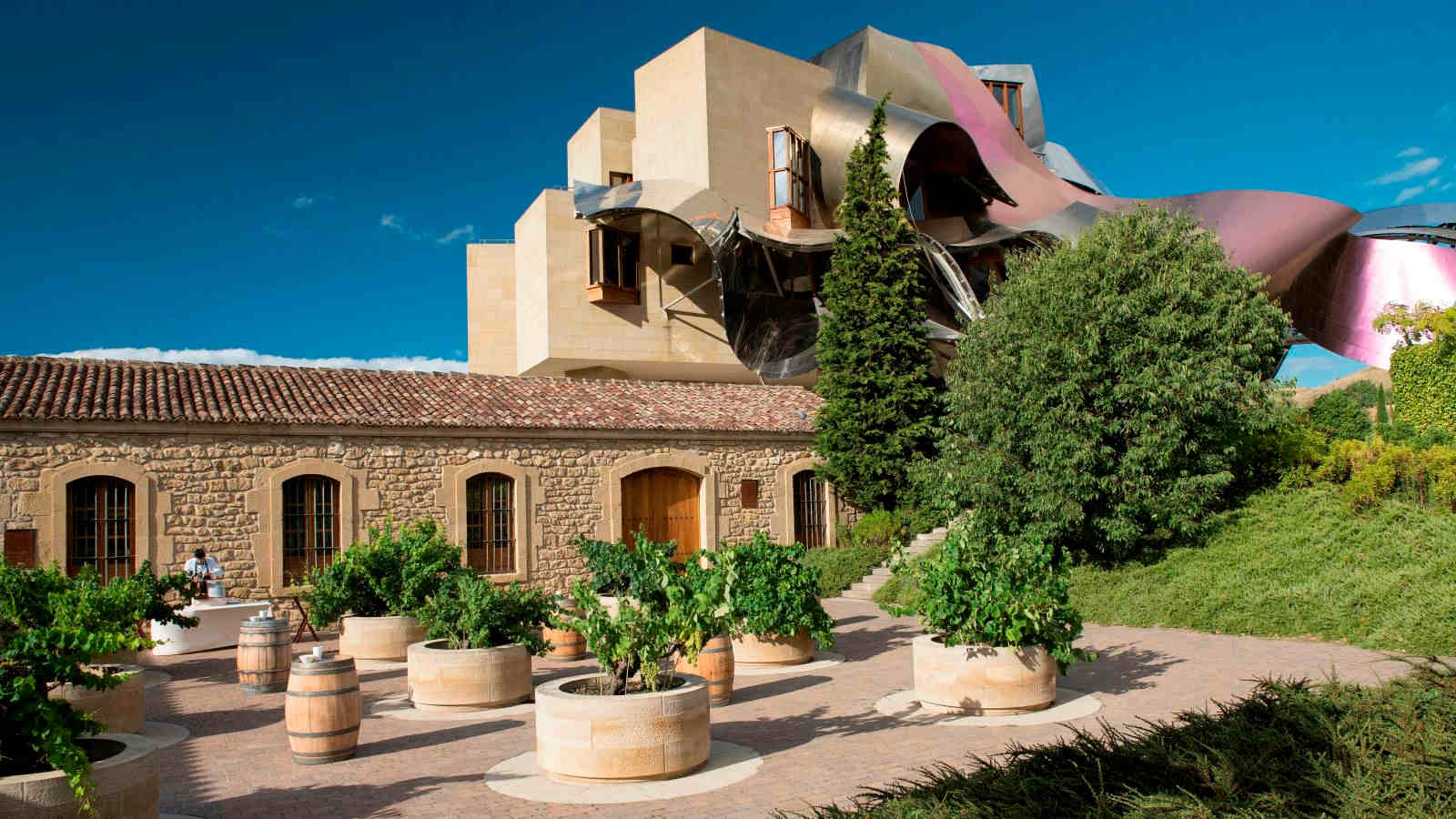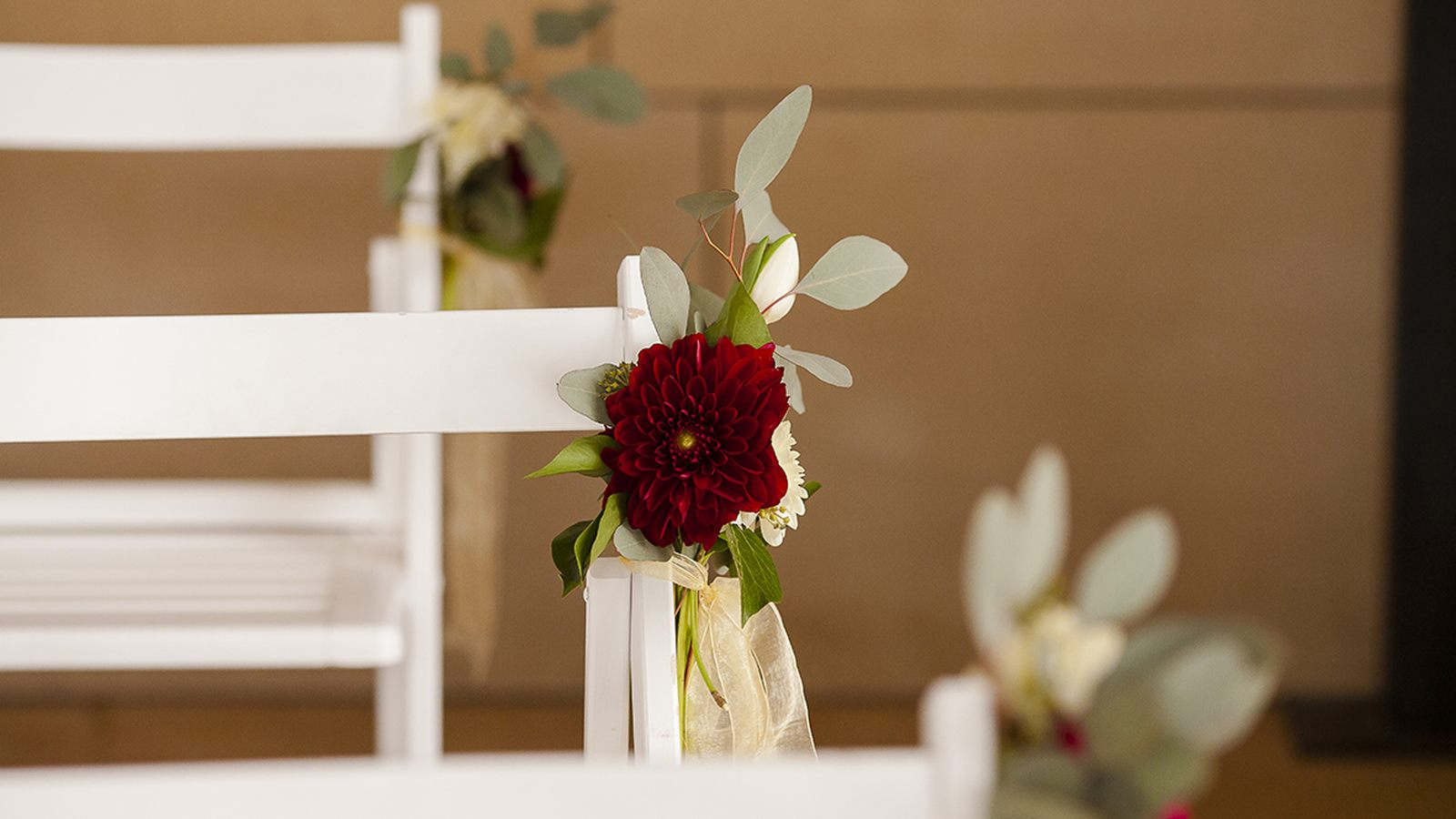 WEDDING SPACES
Religious or civil ceremonies may be conducted at the hotel. Every minute detail will be handled according to your exact wishes.
The hotel offers its ballrooms which can welcome up to 400 people, plus 3 terraces with the most spectacular sights of the vineyards, the mountains and the medieval villages.
Our specialists will take care of every tiny detail to make sure everything will be perfect and exceed your expectations and with an exceptional culinary offer.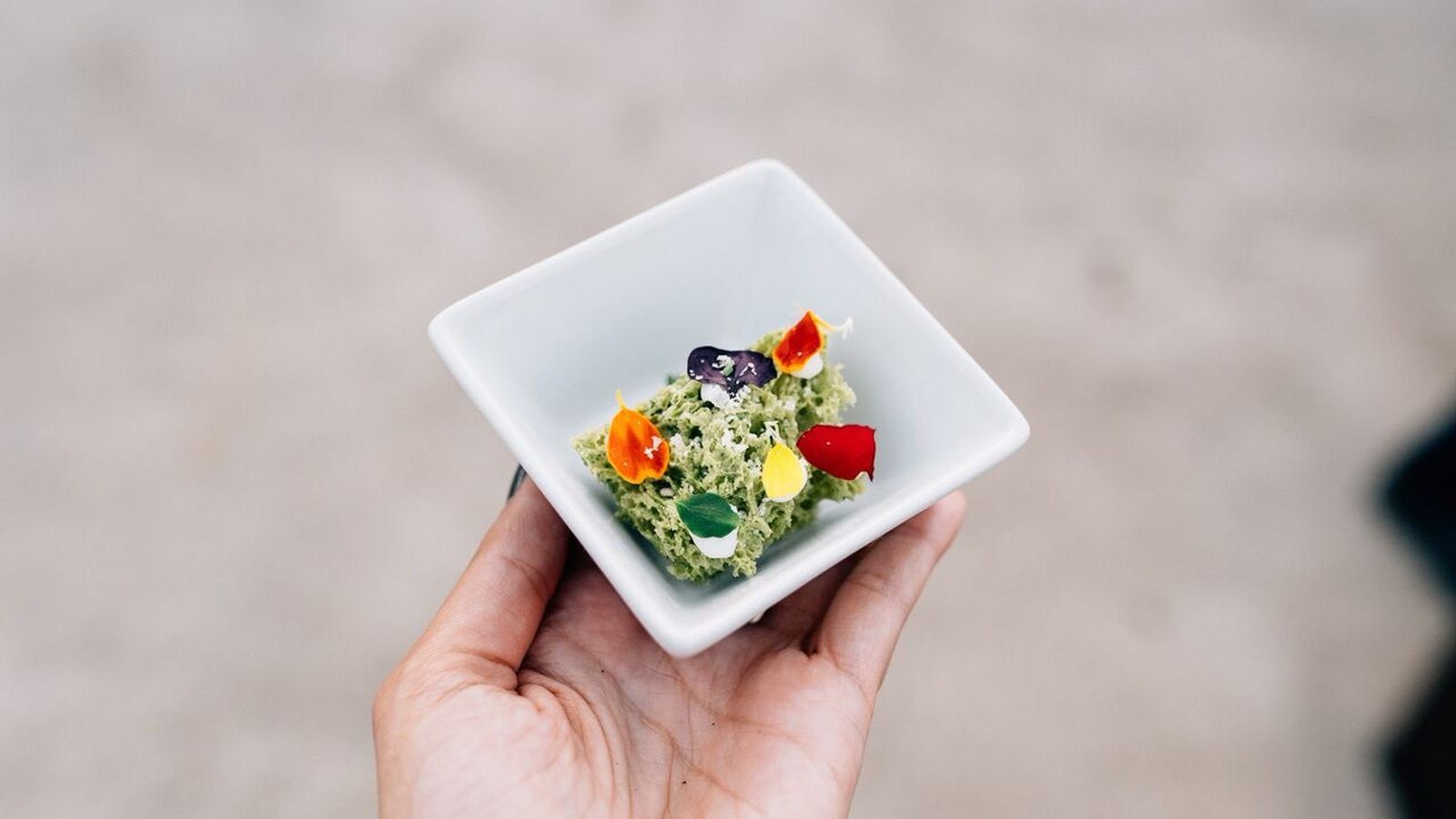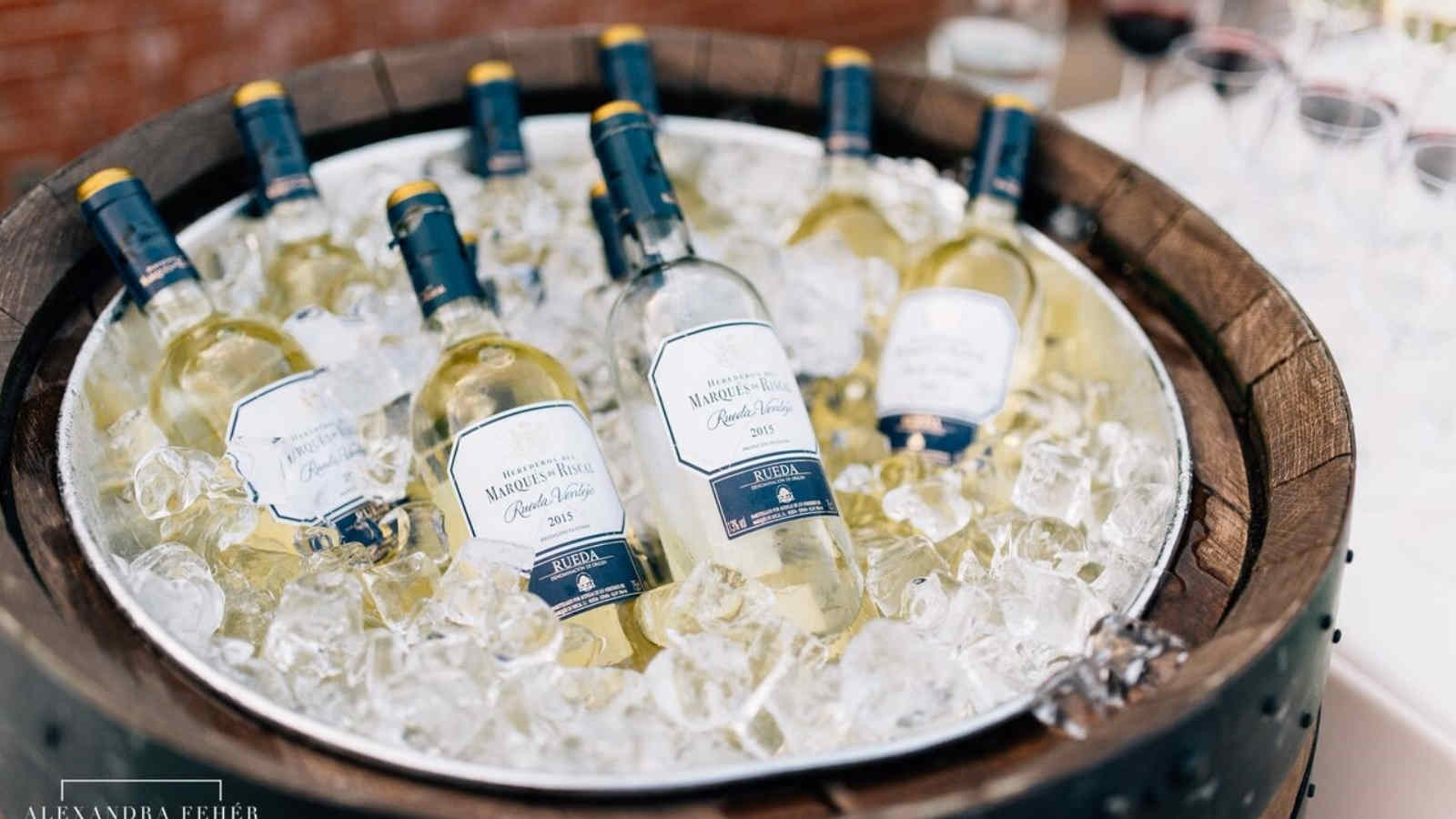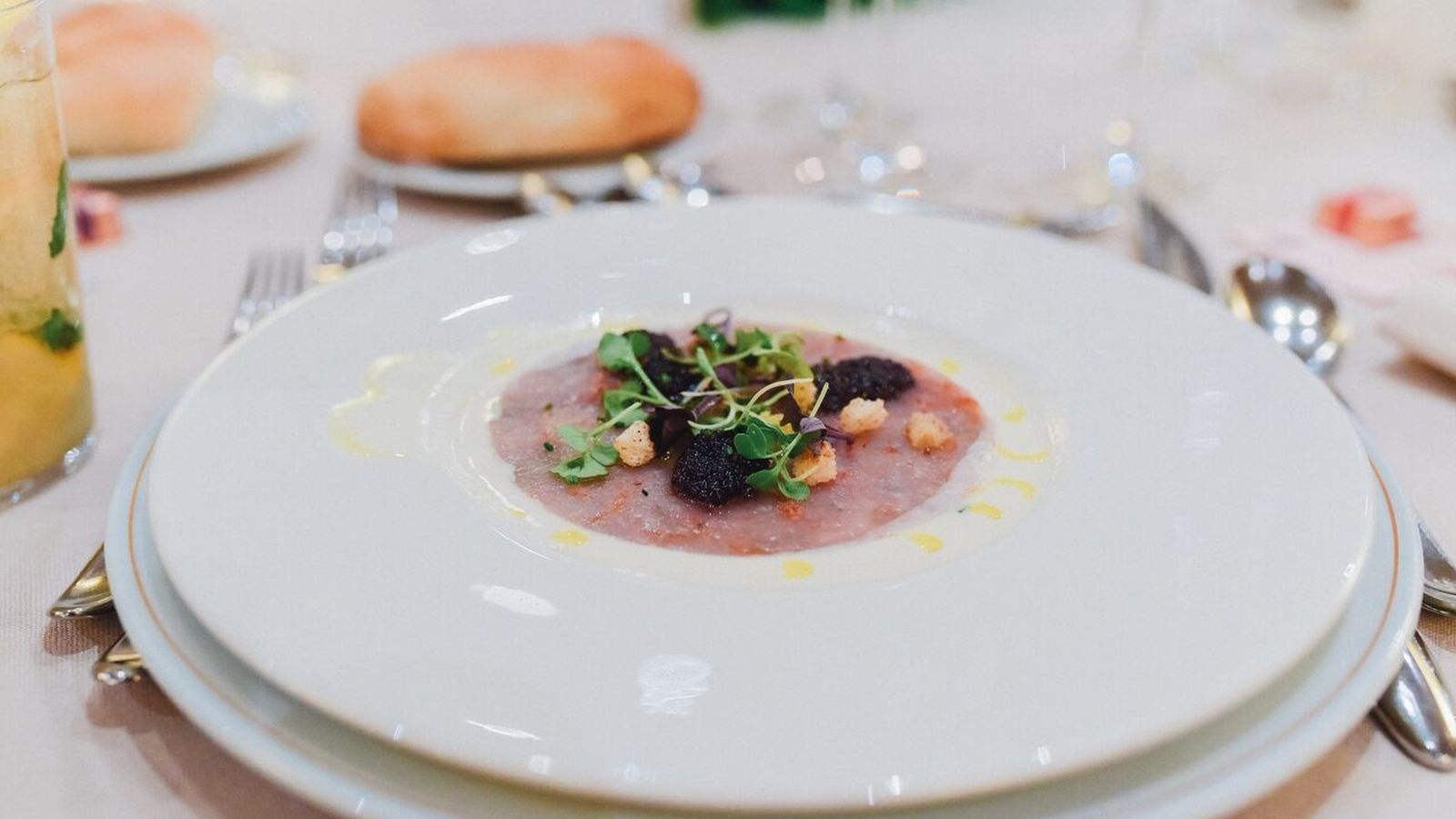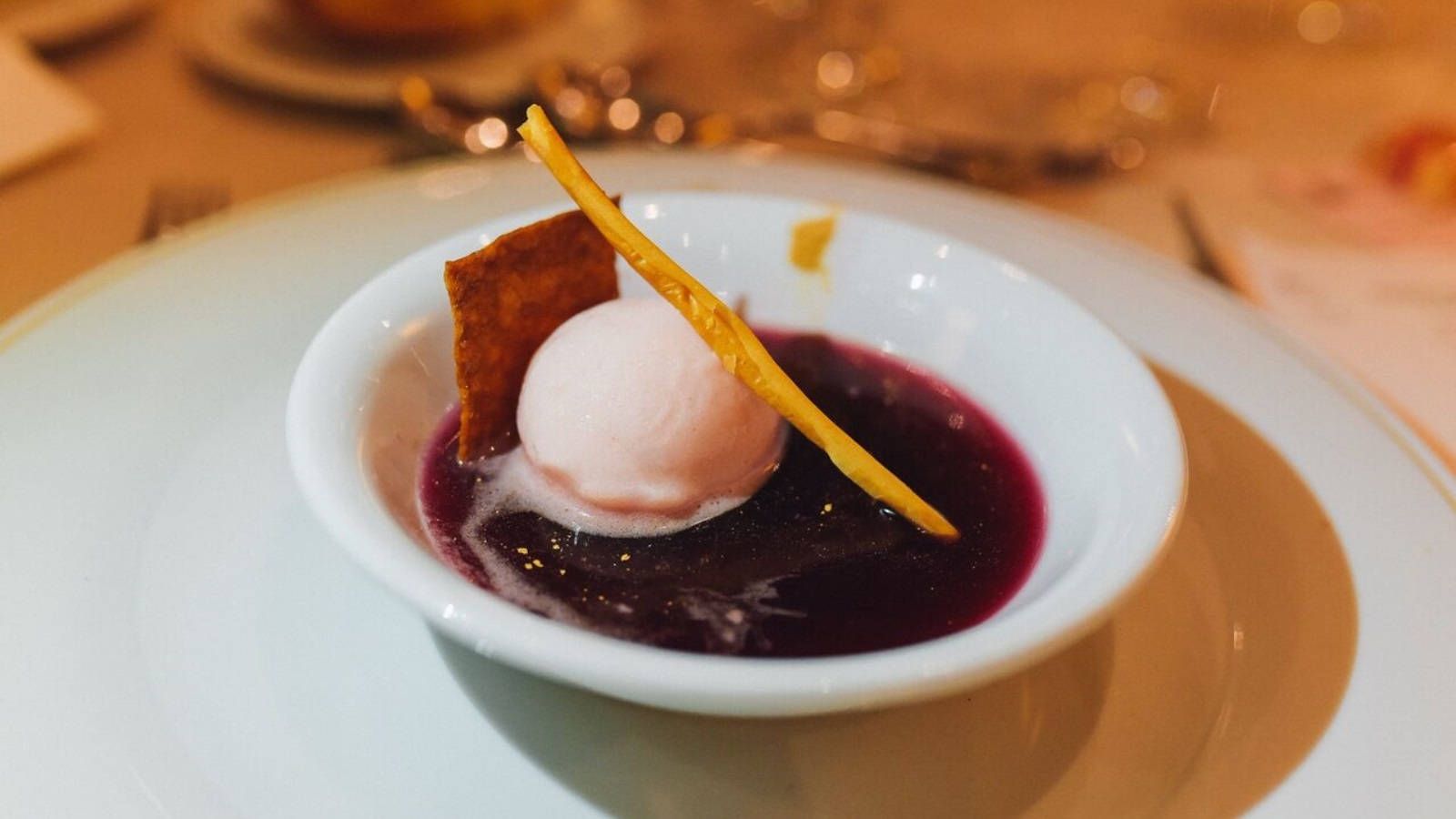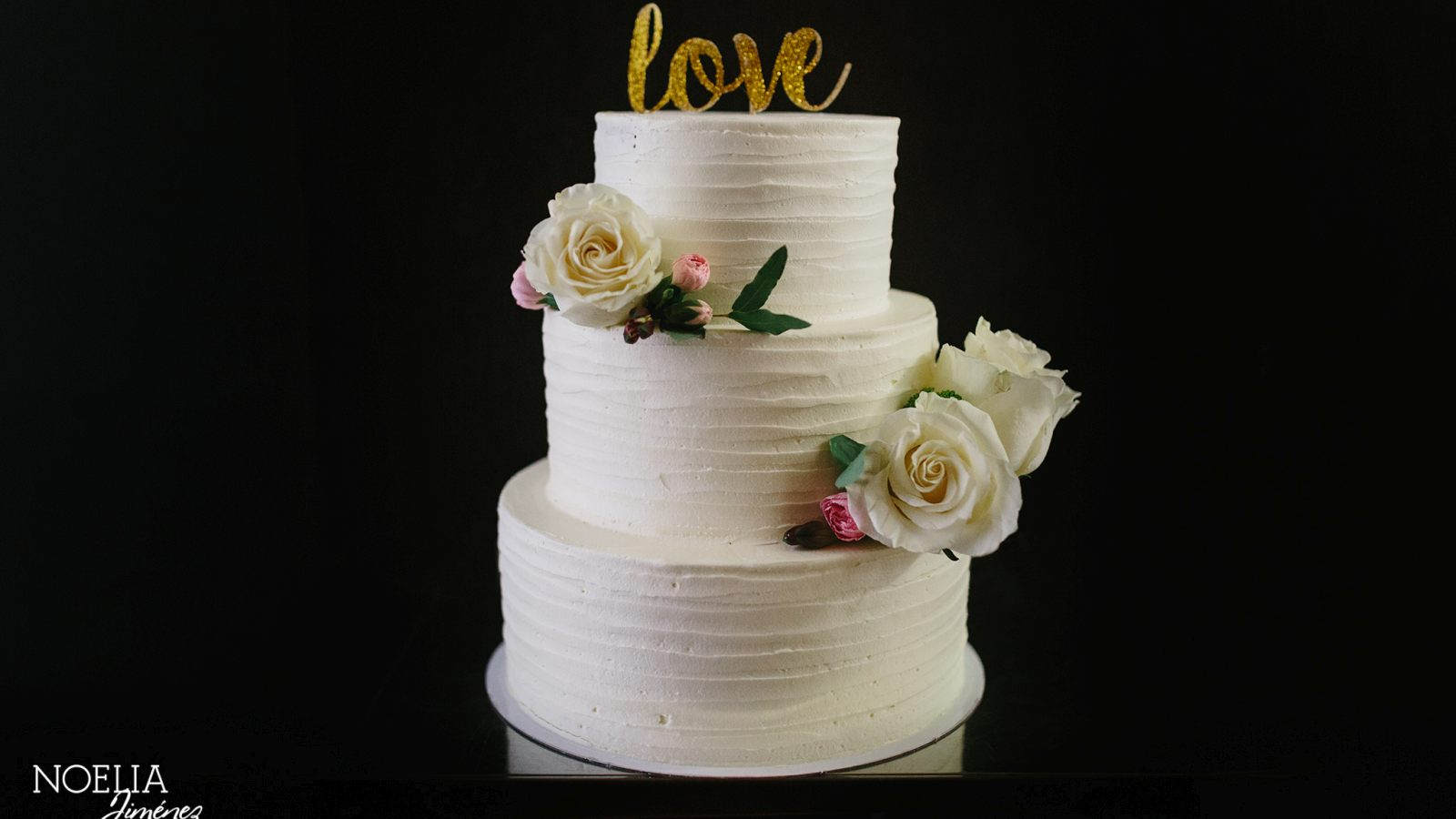 WEDDING MENUS
We would like to present our gastronomic range elaborated with the advice of Chef Francis Paniello (awarded with two Michelin stars). We are pleased to offer you more than 100 possibilities to help creating your own menu and personalize this day in such a way that is uniquely your
Every creation is made of culinary finesse, using only the finest of ingredients, with an hommage to local produce and delicately paired with the Hotel's own, internationally know winery, Marqués de Riscal.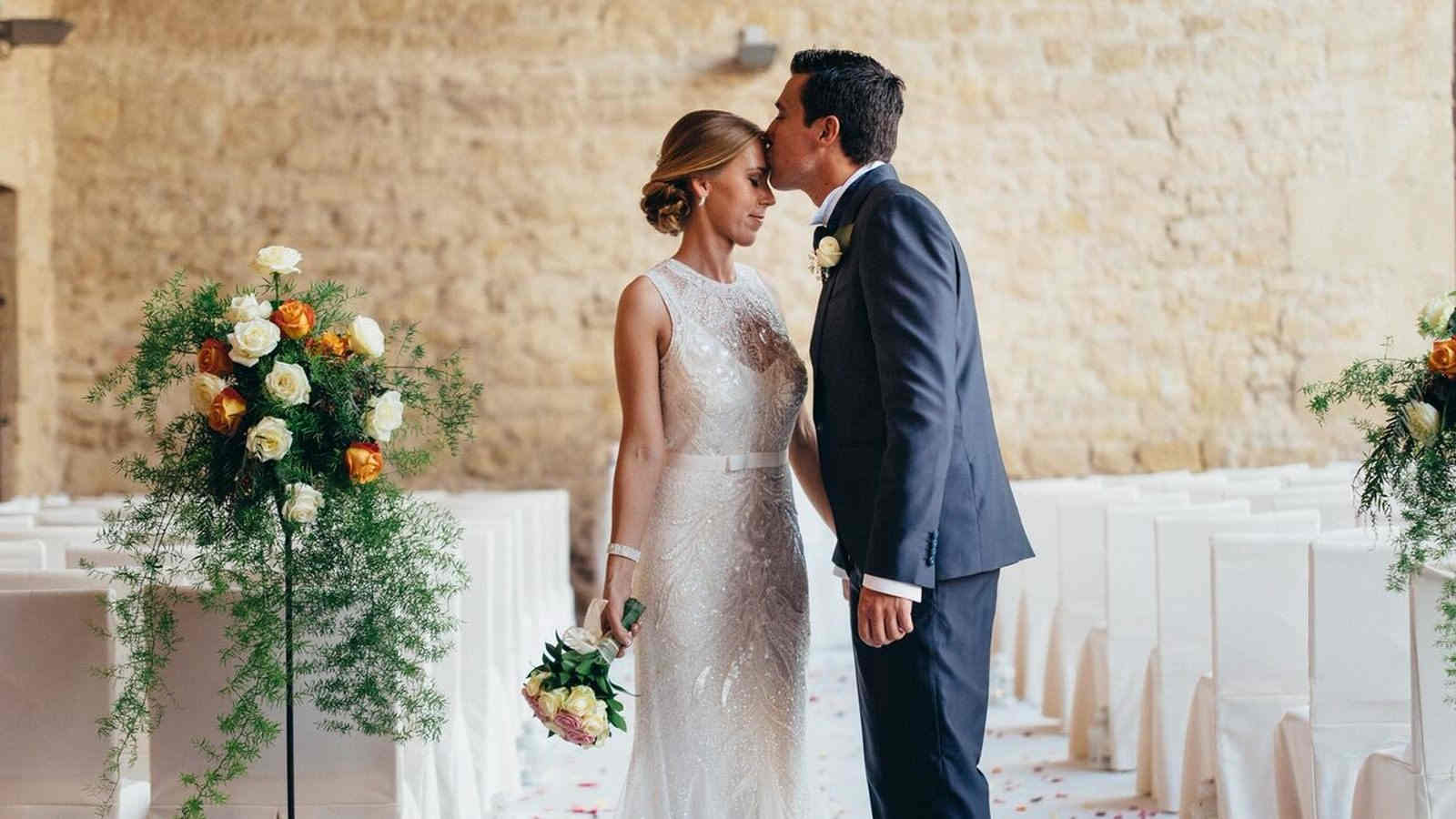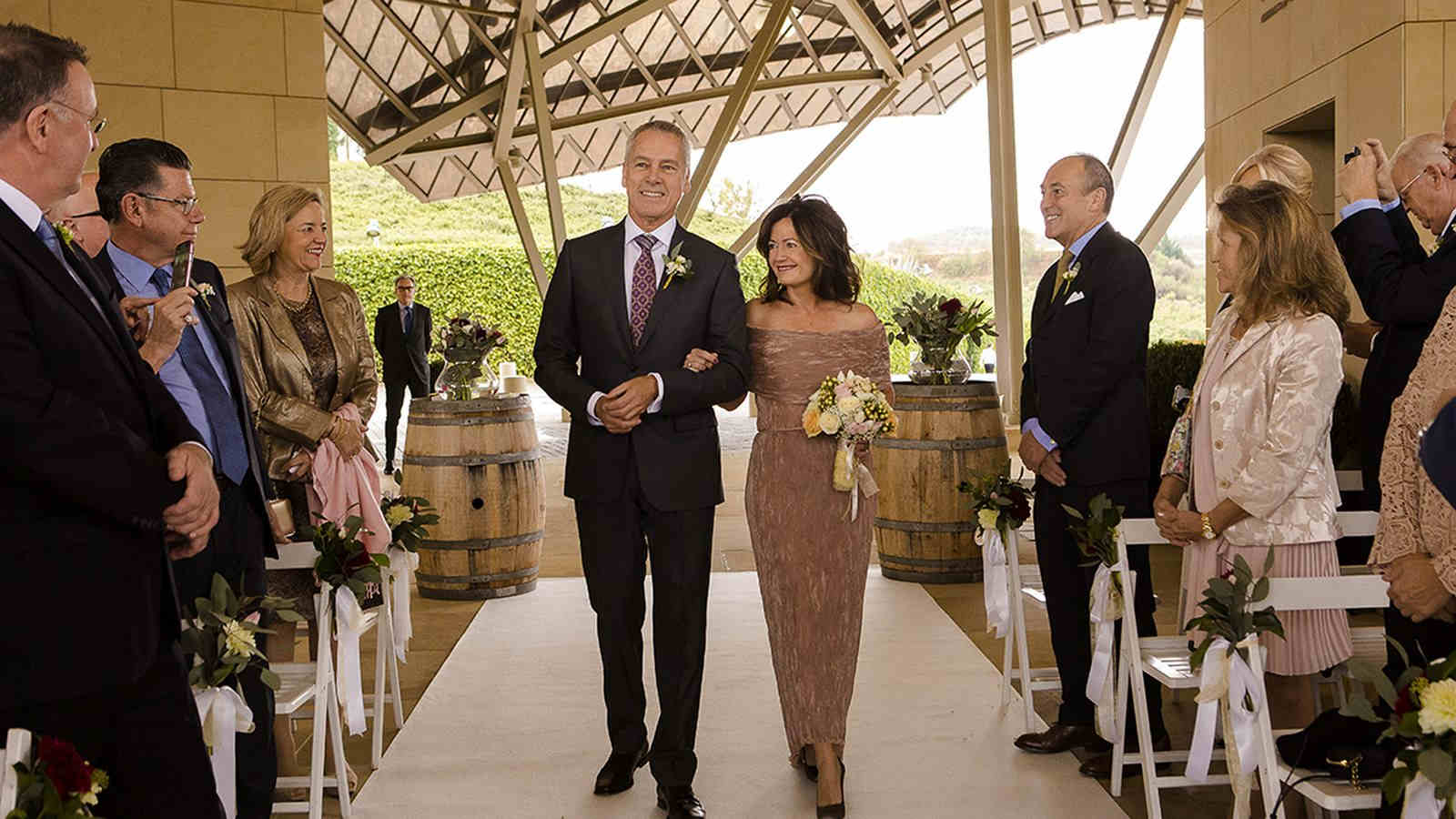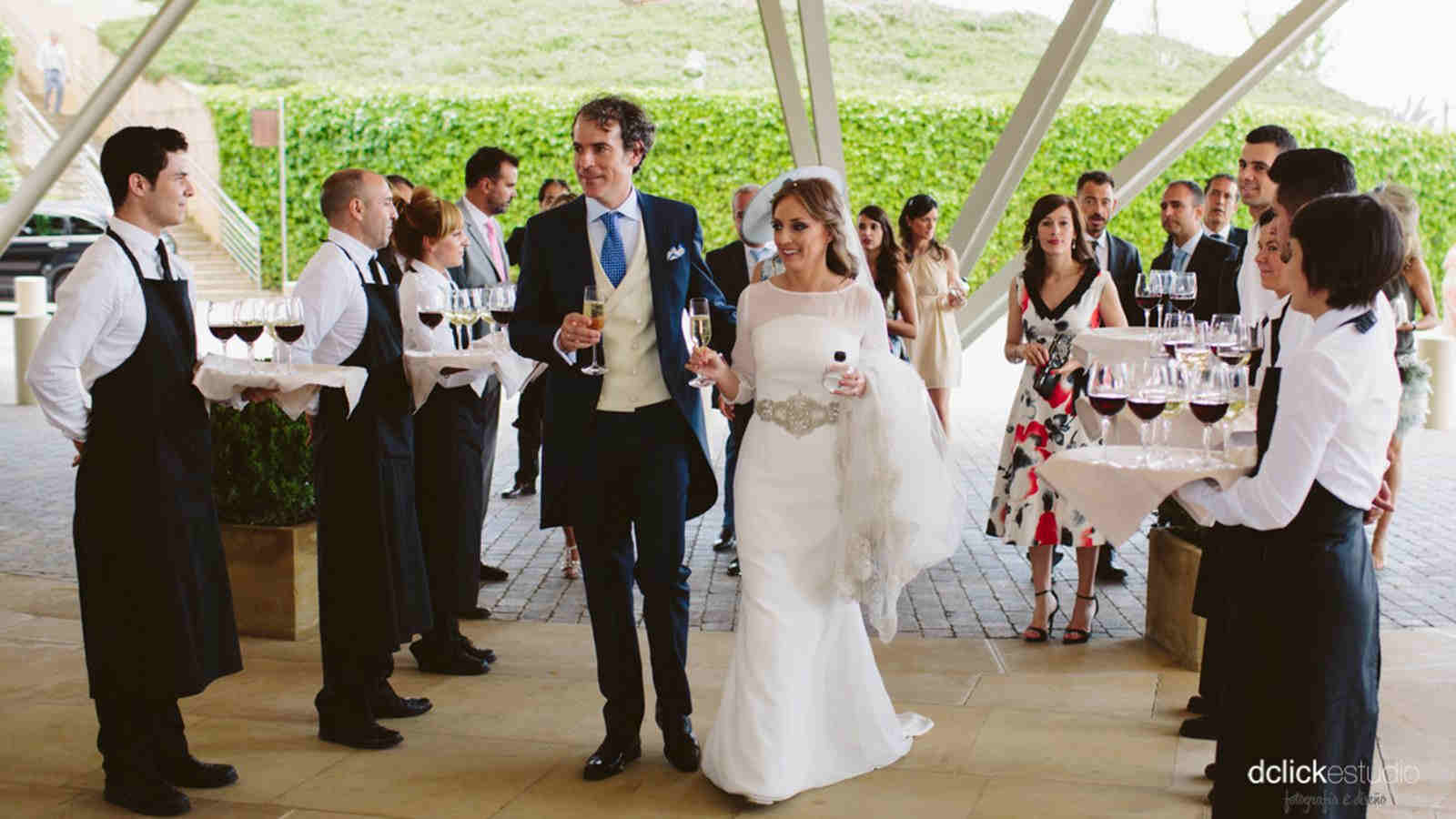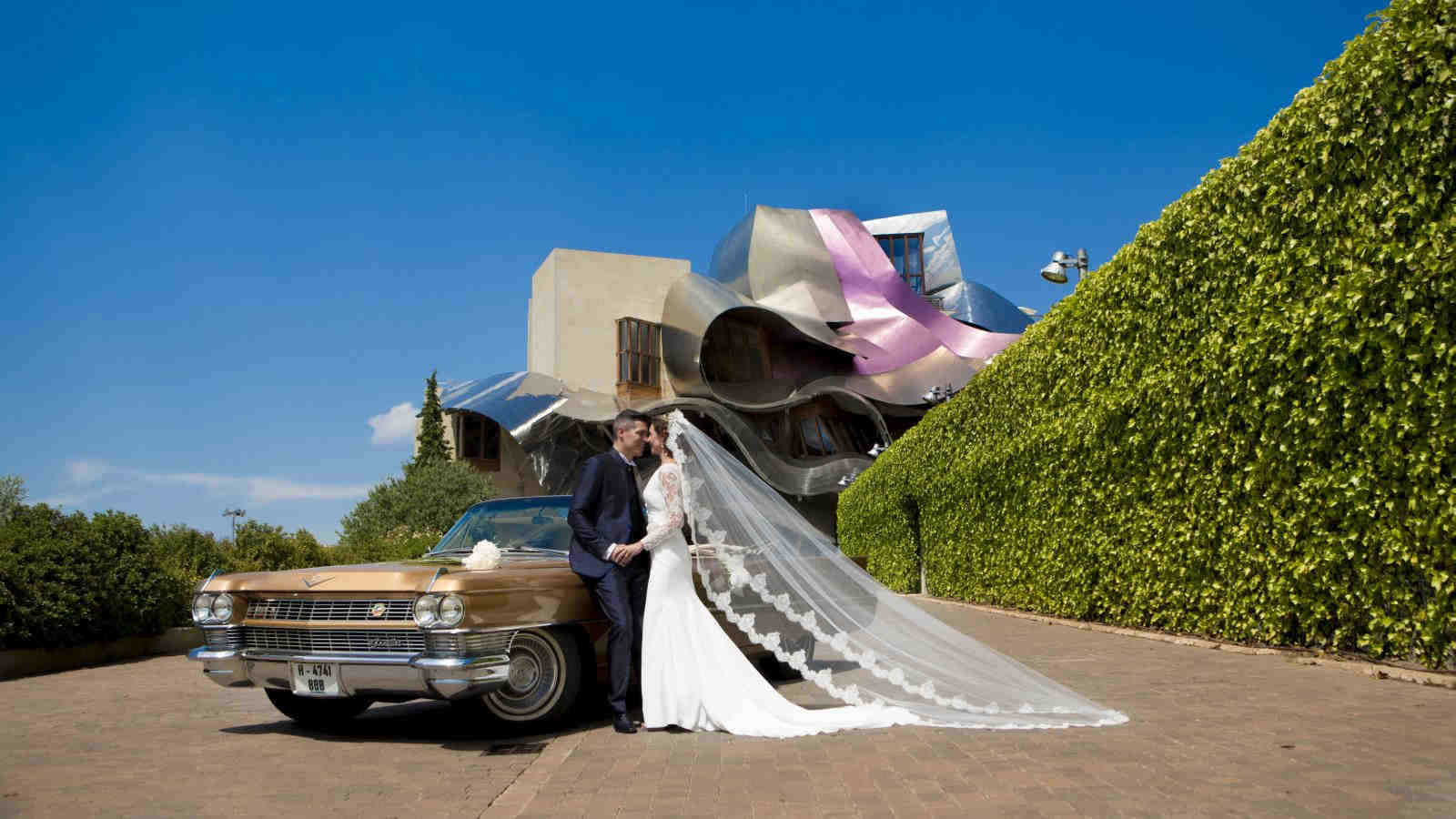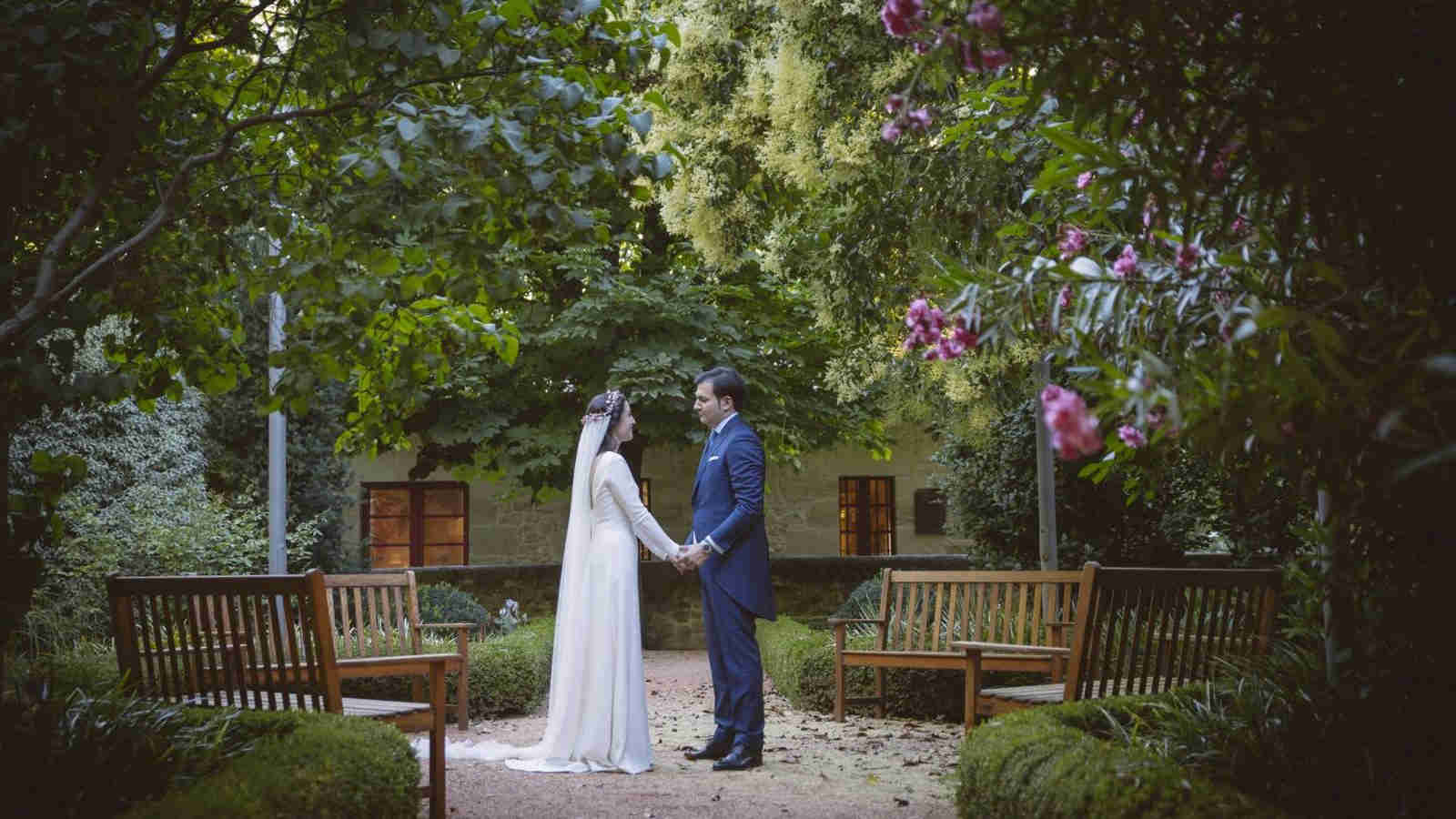 TESTIMONIALS
"...you took perfect note of the style of wedding reception and food I was looking for, from the decoration, music, flowers, and specially to the food...really, no detail was missed…"

"…we want to thank you a million times for making this day an unforgettable one. Everything went perfect, and that is not something only we say, all our invitees repeated it many times."

"If I am sincere, it went way beyond our expectations and of what we could have imagined...the exquisiteness of the presentation, the meticulousness of all details and above all because you made us feel like the most important persons during the whole day of our wedding."
COMPLIMENTARIES
For your special day and night please enjoy these complimentaries: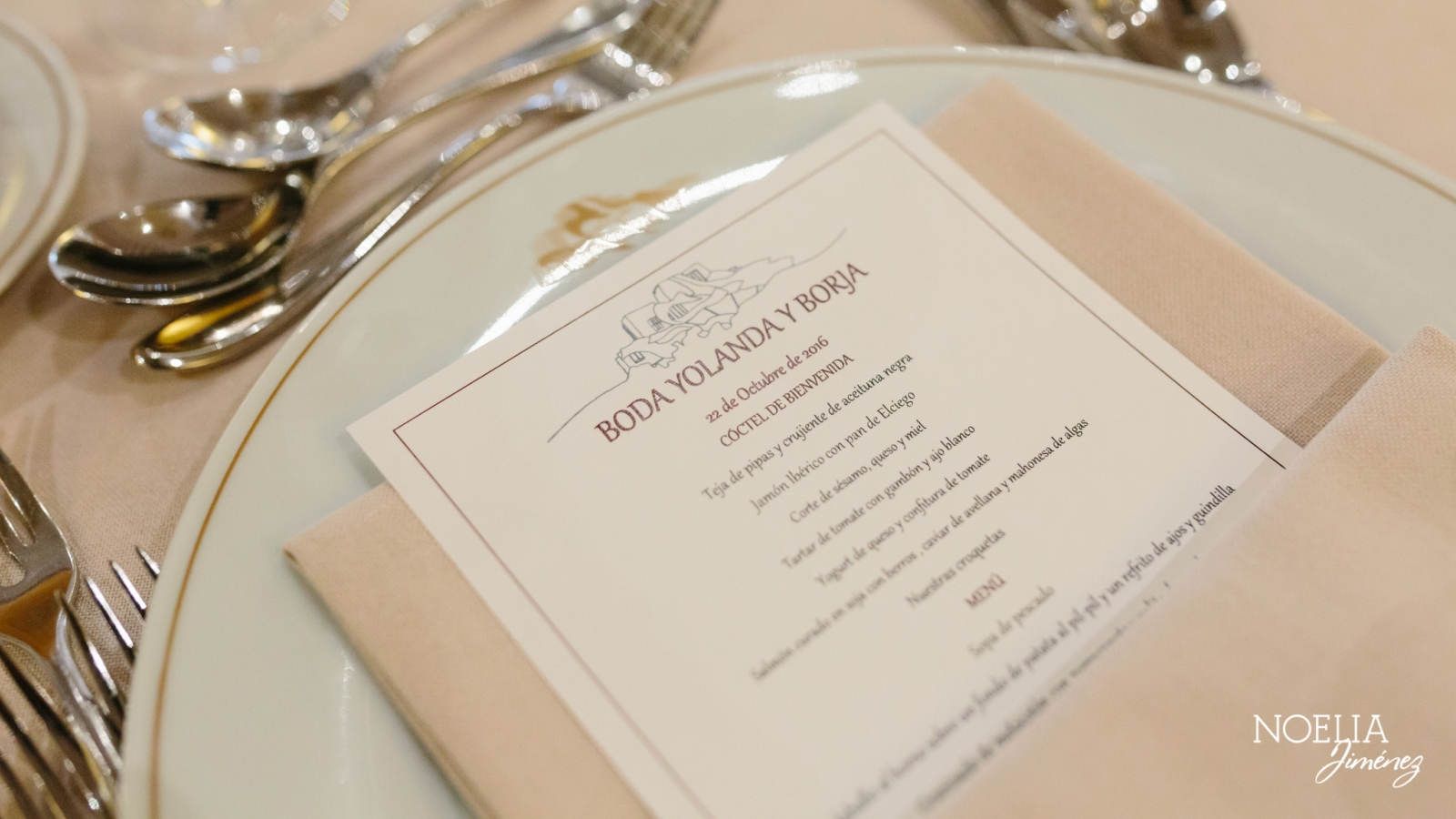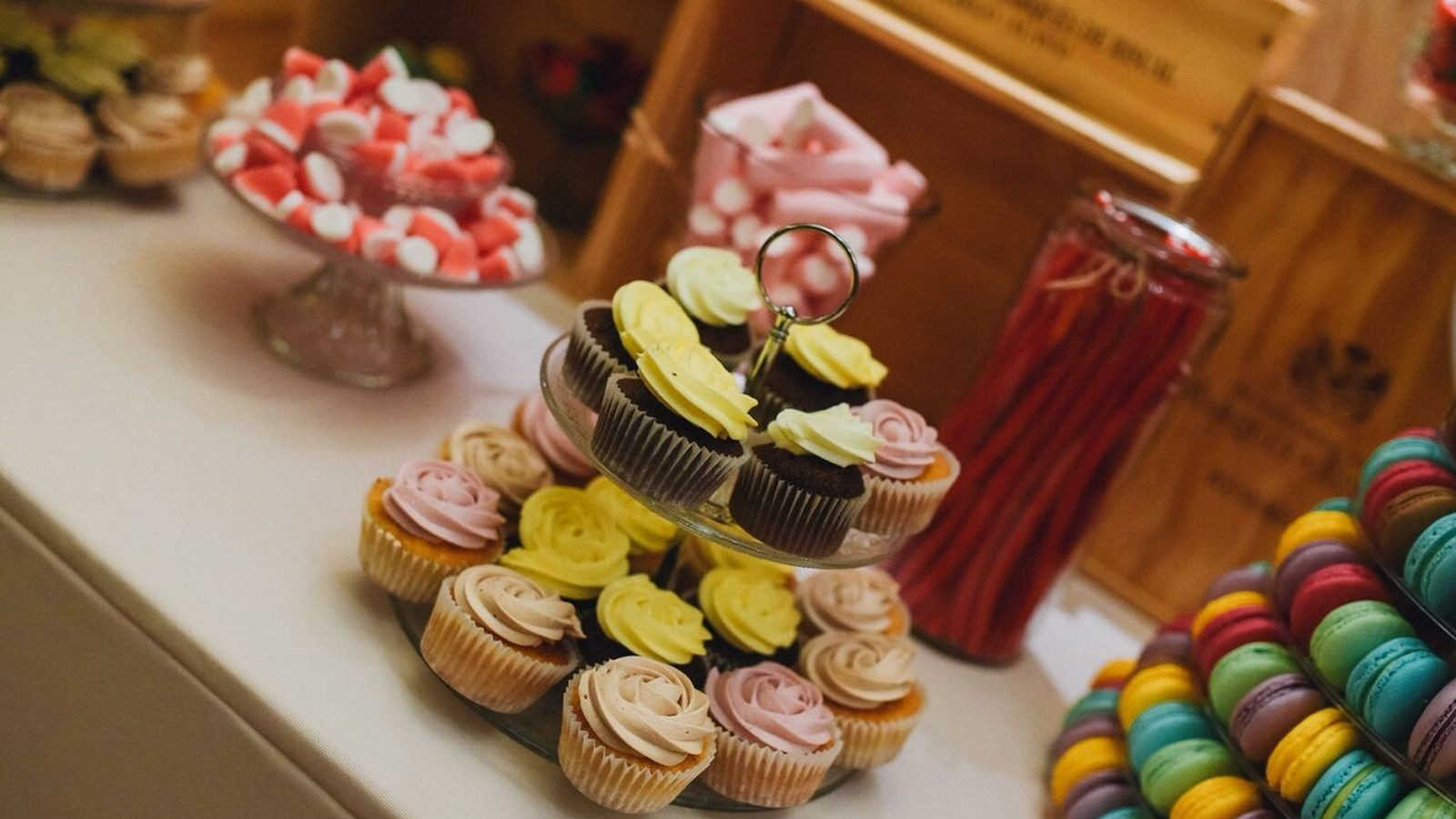 Complimentary Room or Suite for the Bride & Groom including breakfast for weddings as from 100 invitees
Special rates for Grand Deluxe rooms for your friends and family, including breakfast
Personalized design of Table d'hôte and protocols
Floral arrangements centerpieces
10% discount for weddings any day of the week, except saturday
Tasting of the chosen Cocktail and Wedding Menu for up to 6 people for weddings as from 100 invitees
Outdoor parking within the City of Wine
10% discount on Spa treatments from monday to thursday, for the Bride and Groom
Wardrobe service during the celebration.
Candy Buffet (if desired)
Symbolic Wedding Cake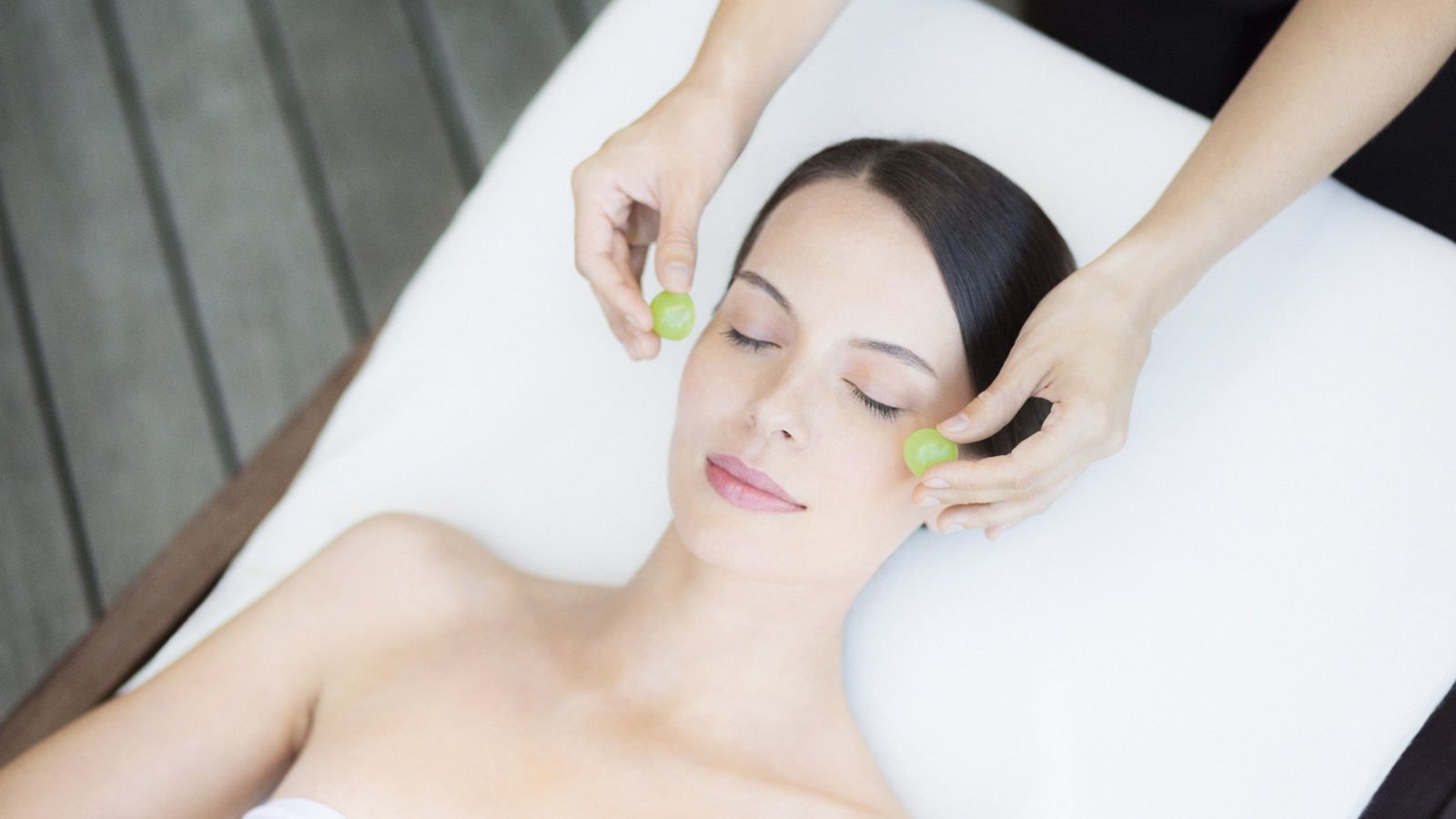 SPA DISCOUNTS
Contact our specialist to discover all the treatments that we recommend from our Vinothérapie Caudalie Spa Marqués de Riscal for you to have some time to relax as well as making your skin look radiant and stunning during all the preparations.
Get 10% discount on treatments from Monday til Thursday before your event.
Contact our vinotherapists:
Telephone: +34 945 180 870
Send us an E-mail >